Is the seating in your bar due for a revamp? Moved into a new restaurant and need booths and benches fitting? Love the look of upholstered walls? Transform your business premises with the professional upholstery services of Woods Upholsterers in Chester. With over 30 years' of experience in furniture reupholstering and leather furniture repair, we know how to create the perfect result for any premises. For examples of our past projects, take a look at the Gallery page.
If you are based in Chester or the surrounding area and would like to learn more about our commercial furniture repair service, please get in touch on 01829 771 291 or 07970 870 072. We hope to be of service to you soon.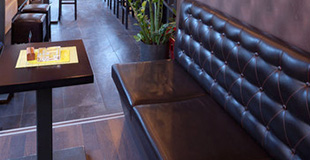 Upholstery Contracts
The seating at your business premises gets a lot of use, making damage and wear likely. Call Woods Upholsterers for regular maintenance contracts – we'll keep your seating in top condition, year after year. Ready to renovate? We can change all fabrics for you.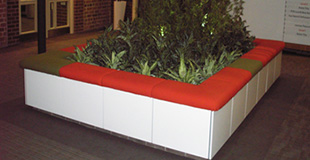 Commercial Upholstery
We offer our commercial furniture repair and upholstery services to the following clients:
• Restaurants
• Bars and clubs
• Retail premises
• Schools and health facilities
• Leisure centres
• Offices

Upholsterers in Chester, Cheshire
From your business premises to your furniture at home, Woods Upholsterers looks after your upholstery. We also offer leather work, including professional repairs and leather treatment.
Get your free quote and more information – call Woods Upholsterers today. Further to our commercial upholstering and furniture repairs, we also offer a complete repair service for domestic clients.